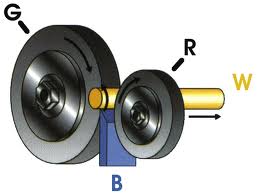 Centerless Grinding
Centerless Grinding is a process by which we take a larger size o-ring cord, and grind to a smaller size.
This process is used when the application demands a more precision tolerance than normal manufacturing methods can produce, for example, .375 dia extruded viton cord has a tolerance of +/-.013, centerless grinding allows us to produce this at +/-.003. After grinding the surface is significantly smoother, and is completely uniform.
Centerless grinding allows us to have a virtually unlimited range of diameters between .050, and .750. Whether our material or customer furnished, not a problem, we can grind any durometer 55 SHORE A and above.
Call for pricing, and find out how we can eliminate the need for high minimum runs, or prototyping.